Sports and Athletic Care in West Hartford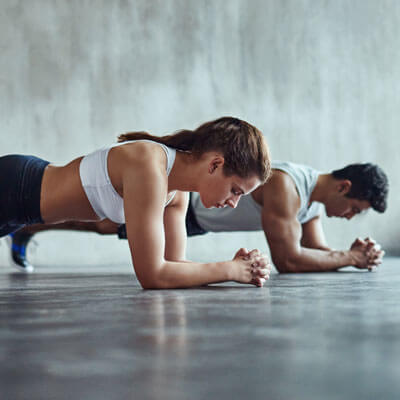 Drs. John and Jessica Tagliarini are physically fit and healthy. They both practice CrossFit and their two sons are both athletes. Both doctors notice that because they receive regular chiropractic care, they are sidelined far less frequently by injury than their fellow athletes. They chalk this up to having joints that are in proper alignment and balance.
At Tagliarini Chiropractic, we're honored to be a chiropractic care center that caters to both amateur and professional athletes. It's important for those involved in sports or dancing to be structurally sound. This body balance can make all the difference whether in competition, performance, or simply beating your own record.
Benefits of Sports Chiropractic
Many professional sports teams today, including the Olympics, regularly use chiropractic adjustment in promoting agility and avoiding injury. Drs. John and Jessica treat a wide variety of cases across a large spectrum of athletes. Most of our patients come to see us because of ankle, back, neck, hip and shoulder injuries.
Benefits are numerous. Players under care are far more likely to be biomechanically sound when their hips and spine are in proper alignment. This stability leads to improved performance levels. Gains are made in flexibility. Athletes are also far less vulnerable to injury and pain. They find that their stamina is greater. Personal records are met and surpassed. Many find that they can carry out a workout or competition to completion without "paying the price" the next day.
Dr. John is a certified RockDoc, trained to use RockTape® enhanced kinesiology tape to help his patients. RockTape® boasts 180% elasticity, and provides topical pain relief. It's used to support an injured joint while still allowing it to move in a normal fashion.
Our Roster of Athletes
We care for children, men and women who enjoy physical fitness and sports, including:
Baseball players
Basketball players
CrossFit enthusiasts
Cyclists
Football players
Golfers
Runners
Professional dancers
Soccer players
Wrestlers
Make an Appointment Today
If you're interested in improving your personal record, or have had an injury that's sidelined you, we can help. We've had a lot of experience working with athletes, and have the tools and expertise to make a difference. Let's discuss your goals. We'll help you monitor them through our professional progress evaluations. Contact our award-winning office today!
CONTACT US »
---
Sports Chiropractor West Hartford CT | (860) 236-2225