Massage Therapy in West Hartford
Why Add Massage to Your Care Plan?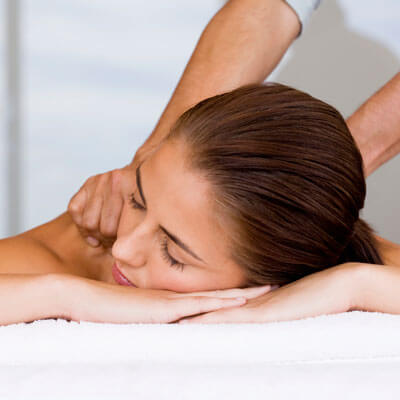 While chiropractic and massage therapy offer considerable benefits individually, they can be better used together. Both share a common goal of treating the whole body, helping you to achieve a state of well-being without drugs, needles, or surgery. They both focus on trying to resolve the underlying cause of your discomfort rather than treating isolated symptoms or masking them with medication.
Massage Therapy uses a variety of manual techniques to provide more mobility to the body's soft tissues (muscles, tendons, fascia). These techniques help increase range of motion, blood flow and circulation while decreasing muscle stiffness or tension, pain, inflammation, and recovery time.
Therapeutic Massage with a chiropractic adjustment is often recommended because it relaxes the soft tissue tension that may be perpetuating the poor alignment and can make it easier for the joints to stay in place. As the Chiropractor corrects the structural problems that are causing pain or limiting your mobility, Massage can complement the healing process by increasing circulation, decreasing restrictions, and stretching and relaxing muscles that have been aggravated by these structural problems. The end result is that it easier for you to move without pain, and thus more quickly achieve a state of normal well-being.
Amy Clow, LMT – CT License # 2416
Amy Clow, LMT has been practicing massage therapy for over 21 years, with a focus on prenatal massage. She is certified in Mother Massage. Amy loves being able to ease the physical stresses of pregnancy and she uses the Bodycushion to fully support her clients throughout their pregnancy. Over the course of her career, she has also taken a variety of continuing education to help her address the pain, stress, decreased range of motion, and improve the overall health and quality of life of her clients. Her schedule fills up quickly, so text Amy today at (860)335-5840 to schedule. *If our Massage availability doesn't work with your schedule, our Doctors can give you a referral for someone in your area that can accommodate you.
Chris McGurgan, LMT – CT License # 2056
Chris McGurgan, LMT is experienced in practicing Massage Therapy for over 22 years. She strives to focus each session to meet that person's individual needs, whether they need pain relief, stress relief, relaxation, or all of the above. She has taken initiative to expand her skills and knowledge with additional classes and certifications over the years. Chris is certified in Orthopedic Massage, a Reiki Master and has additional training in Cupping, Craniosacral, Myofascial, Facial Rejuvenation, Ayurvedic Marma and Ashiatsu Oriental Bar Therapy. She is currently available at our office on Friday afternoons into the evening. If you would like to speak with her about how Massage Therapy can help you or would like to schedule, please text Chris at 860-877-3550.
Massage Hours:
Amy: Wednesday, Friday, Saturday & select Sundays 9am-2pm
Chris: Friday 3pm-8pm
Massage Rates (effective 4/1/2022):
60 minutes – $95
90 minutes – $135
What Our West Hartford Patients Say
A Joy to Speak With
Amy is so incredible! Not only is she an EXCELLENT massage therapist, but she's a lovely person and a joy to speak with. So glad to have finally found a therapist I can stick with.
-Andrea G.
---
Intuitive Hands
Amy has what I call intuitive hands. She picks up on issues in my muscles that complement my chiropractic treatments. After an adjustment, I like to follow up with a massage so that my muscles are less likely to pull joints and ligaments back to the position that gives pain or discomfort.
– Donna L.
---
She's Fabulous!
Go see Chris..she's fabulous! She keeps me limber and walking! She's the only one who helped my husband with headaches after he ran the gambit of specialists. Go…GO! – Mary F.
---
An Amazing Massage Experience
Amy is the BEST! Always listens and treats my medical issues accordingly throughout an amazing massage experience. I highly recommend her. Respectful, clean and all around terrific!
-Alana C.
---
Highly Recommend Her!
Chris is an excellent massage therapist — highly recommend her. – Ann W.
---
Just Wonderful
Amy is just wonderful. I am working to get my body back in shape and I don't think it would be going well without her as my partner.
– Tony D.
Book Your Appointment
You can text Amy directly at 860-335-5840 to schedule your appointment.
CONTACT US »
---
Massage Therapy West Hartford CT | (860) 236-2225