Parents are in the trenches of back-to-school shopping. But there's one item that parents should pay extra attention to: your child's backpack.   According to a study conducted by the American Chiropractic Association, young children are suffering from back pain much earlier than previous generations and overweight backpacks are a contributing factor.   It is very important that the backpack you select fits your child properly. Children's spines are still growing and they're vulnerable to back injuries that could lead to chronic back pain in adulthood.
Backpack Safety Tips: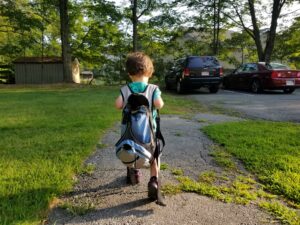 According to the American Chiropractic Association, the ideal backpack weight for a child is no

more than 5-10% of their body weight

. So if your child weighs 100 pounds, their backpack should weigh no more than 10 pounds.  Of course we can't control the amount of text books our children are sent home with…But we can make sure that they have a backpack that is supportive and fits correctly to carry heavy loads. 

Bigger is not necessarily better. The bigger the backpack the more your child is likely to carry the heavier the backpack is going to be. A backpack

should not hang lower than 4 inches below the waistline

.

Individualized compartments help distribute the weight more evenly.

Straps are very important. Make sure you

adjust the straps

to ensure the backpack fits correctly. It's also very important to

wear both shoulder straps

to distribute weight evenly.  Lastly,

wider straps

are more comfortable on a child's shoulders.

 

The most important thing when choosing a back pack is choosing one that is the right size for your  child.
A Few of our Favorite Backpacks:
We really like the LL Bean Explorer Pack for elementary school and middle school aged kids (our 7th grader is sporting this one for this school year)

.

Another great choice for this younger age group is the REI Tarn Pack.

REI is a great place to find a back to school backpack or a technical day pack. They even offer pack fittings. 

Our favorite pack for high school and college aged students is the North Face Recon Pack (we just picked up this great pack for our high schooler at the Westfarms Mall North Face store). 

It has cushions on the shoulder straps as well as along the back on the pack for comfort. 
What to Avoid When Wearing a Backpack to School:
The only backpacks we recommend staying away from are the backpacks all the younger children want – the character backpacks. The character backpacks are usually much too big proportionately for the size of the child wearing them, they don't have enough compartments, and they don't offer any back or shoulder support for heavier loads.
In conclusion, it's very important to find the right size backpack and make sure it fits correctly. Just like your child gets their regular checkups at the pediatrician, dentist and eye doctor it's important to get regular check-ups by a chiropractor to detect spinal issues early on and prevent future problems. Ask us about our free backpack fittings at Tagliarini Chiropractic.