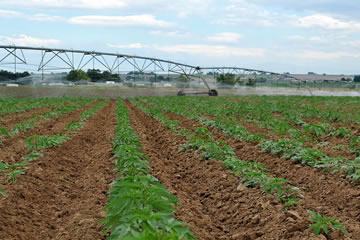 About a year ago, we noted several patients inquiring about CBD…asking what we thought of it and what brand we recommend. We began to research several CBD companies and their products. We finally landed on Young Living (YL) as the company and products that we feel are the best in the industry and best fit our practice's values.
What speaks to us most about YL is their quality. Their products are grown without pesticides, on farms that they own, and guaranteed 100% pure by third party testing. Your wellness journey deserves the best, and YL's quality commitment is here to support it!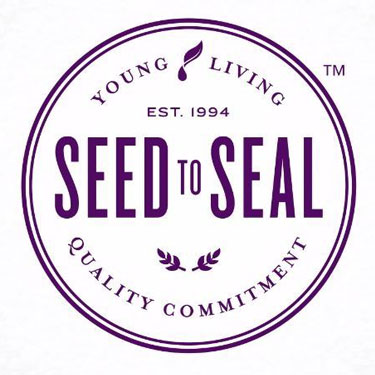 YL's quality commitment uses stringent Seed to Seal® guidelines in sourcing, science, and standards to ensure that you're getting only the best ingredients. They own their hemp farms (most companies purchase hemp already grown from outside farms). This is important because hemp is a filter plant, which means it easily absorbs whatever is in its environment. YL grows its hemp with non-GMO seeds in the mountains in Colorado. Being grown at a high altitude means less pests and no harmful chemicals or pesticides that the plant would otherwise absorb.
We are impressed that YL routinely not only tests all of their products for purity and quality, but they ALSO have a third-party test them as well. This third-party testing is done to ensure that you're getting a high-quality product free from solvents, heavy metals, gluten, and pesticides. This transparency makes us feel confident in recommending their products.
Another thing we like about the YL CBD products is that they smell AMAZING. Most products from other companies we tried smelled skunky like marijuana (yuck). YL's CBD products are the only CBD products on the market formulated with Smart Spectrum™ CBD science. Smart Spectrum™ blends the CBD isolate and the terpenes from essential oils to make a CBD product that is broader and more robust. The terpenes found in essential oils can also increase the overall efficacy of the product. We have them on display in the office so you can smell next time you stop in.
Initially, we noticed that YL's prices were a smidge higher than those of the other CBD companies we researched. We quickly realized that with CBD you definitely get what you pay for. YL has carefully aligned each of their formulas to deliver unrivaled purity and performance. Each product is carefully formulated to meet life's little challenges. Maximum relaxation? Check. Promote calming vibes? Got it. Soothing comfort? YL has you covered.
Due to the heightened amount of stress in our society right now along with the burden of more aches and pains from working from home at makeshift workstations, there is no time like the present to give CBD a try. Since Young Living CBD products contain 0.00% THC, you can experience their numerous health benefits without the "high".
The good news…YL has an awesome "starter kit" option where you can get full sized containers of YL's 3 most popular CBD products ($278.85 value) for only $165. Ordering the starter kit makes you a "member" for life…this simply means that you get 24% off retail (so you get wholesale pricing) of any products you buy moving forward. No strings attached!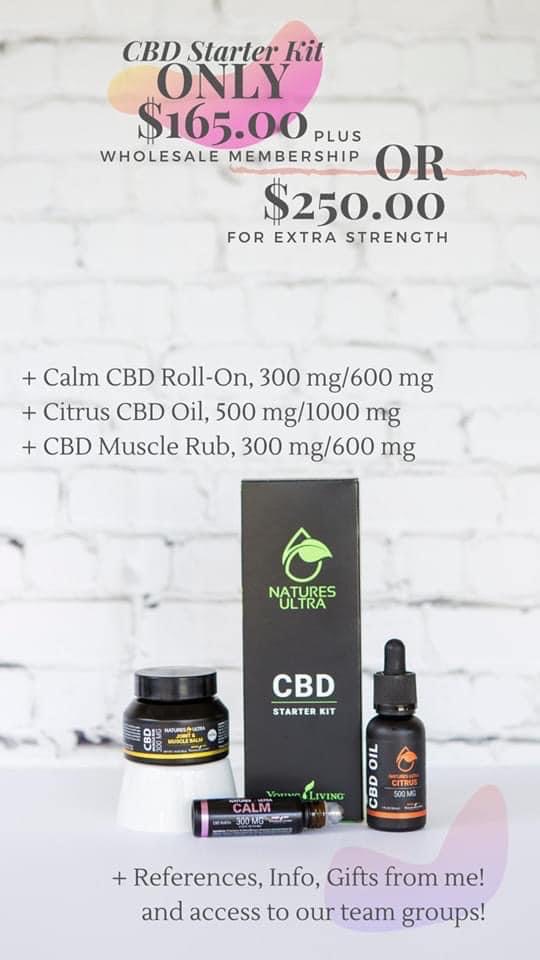 Here is a link to the CBD page on the YL website for more info: Young Living CBD products by Nature's Ultra
Here are some quick tips and uses for each of the items in your starter kit:
Starter Kits are available in Regular Strength or Extra Strength
CBD Oil – You get the citrus 500mg or 1000mg oil in your kit. If you love it and want to purchase more in the future, know that it also comes in cinnamon and cool mint. Start by using 1/4 dropper at bed time. You can gradually work up to a full dropper. Both strengths are available for individual purchase as well.
CBD Muscle Balm – This smells absolutely amazing and a little goes a long way so use it sparingly. Use to soothe achy, sore, stiff muscles and joints. Note: The Regular Strength Kit includes a 300mg version, Extra Strength Kit includes a 600mg version. Both strengths are available for individual purchase as well.
CBD Calm Roller – This combo of CBD and 100% pure essential oils works together to help you feel more calm and sleep more restfully. Keep it in your purse or briefcase for on the go stress, in your desk drawer, or on your nightstand. Note: You will receive the 300mg version in the Regular Strength Kit and a 600mg version in the Extra Strength Kit. Both strengths are available for individual purchase as well.
Now that we have done all of the tedious research for you, are you ready to begin your CBD journey with a starter kit? You can either call our office, stop by, or click on this link to order your CBD starter kit.
Questions? Shoot us an email or give us a call.
*Young Living Independent Distributor #23834089